Originally published July 17, 2016
This week will mark 15 years since the release of director Hayao Miyazaki's beloved film, SPIRITED AWAY. Originally released in Japan on July 20, 2001, the story follows 10-year-old Chihiro as she must summon her inner endurance to survive the spirit world and find a way to get back to the human world.
SPIRITED AWAY has been loved and cherished by many, as it has been praised for its beautiful animation, well developed characters, and incredible storytelling. But there's more to the film than all that is magnificent and immediate to the eyes. People who've seen it several times also appreciate the smaller moments that make up the whole as well; some more satisfying in their own unique ways than others. With that in mind, in chronological order and based upon opinions of my own and the fandom, I want to take this time to analyze four strangely satisfying moments from SPIRITED AWAY:
1. Boh and the Soot Sprites "Cut the Line"
Fans definitely get a kick out of seeing the soot sprites (who can also be seen in MY NEIGHBOR TOTORO), and Yubaba's son Boh most certainly earned many cute points when he was transformed into a mouse. You put them all together and you get cuteness at its finest. One can't help adore them reenacting Kamaji and Chihiro "cutting the line" (a Japanese good luck charm), after she squashed the slug that was controlling Haku. It's an amusing visual contradiction to what Kamaji can briefly be heard saying about Haku's origins.
2. Train Ride to Swamp Bottom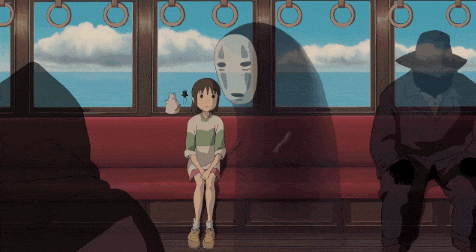 The scene of Chihiro and her friends traveling to Swamp Bottom to meet with Zeniba is a demonstration of a technique Miyazaki is known for using in all his films called ma. It's a moment where the character(s) takes the time necessary to soak in their state of being, the time and place, all without adding a heavy significance to the story's flow in general. But it still adds to the story in the matters of allowing for breathing space in between scenes of action, which is refreshing to see when you compare it to many Western films, where such techniques are practically nonexistent. Not to mention that the song in that scene from composer Joe Hisaishi really adds to the overall serene feeling.
3. The Hopping Lantern
Despite warnings from Kamaji that Zeniba is a dangerous witch, the audience is told otherwise when we seen the hopping lantern emerge from the trees. It's a simultaneous surprise and delight, as this magical lantern squeaks as it hops down the road to meet with Chihiro and her friends. It stops, bows to them, before leading the way to Zeniba's cottage. It's such a small moment, but it also sparks hope that their journey just may be worth it.
4. No Face Eating a Slice of Cake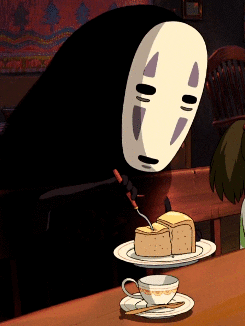 How interesting it is that this is the detail people remember from this scene, for the conversation between Chihiro and Zeniba is generally the main focus. It's also quite ironic, as we've already spent a good quarter of the film, watching No Face eat a lot of food (and a few bathhouse employees) like a barbarian. And yet there's a small joy and satisfactory to this scene, as the lonely spirit cuts its slice of sponge cake in half, before gently stabbing into its soft texture with his fork and eating it. The way I see it, perhaps it was Miyazaki's way of showing how he can be when he's not in such a toxic environment.